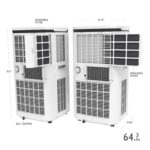 ROLLICOOL 14000 BTU Smart Portable Air Conditioner, Dehumidifier & Fan for Rooms up to 375 sq ft (100H-20v2 )
$489.99
POWERFUL COOLING — 14K BTU quickly cools rooms up to 375 sq. ft. Can pull up to 2.91 liters of water from the air per hour (79 liters/day) to combat humid, muggy days.
COOLING POWER OF VOICE — Use Alexa (sold separately) voice commands to control your Rollicool with a library of Alexa skills. Intuitive, easy-to-use app also available.
DUAL-BAND WI-FI SUPPORT (2.4GHz & 5GHz) — Connect the A/C unit to your home wi-fi network and control from anywhere with an internet connection. No Internet? No problem! Simply use Bluetooth to control your COOL.
INTUITIVE iOS/ANDROID APP — Control the COOL without getting off the couch.
WORLD-CLASS SUPPORT – 1-Year limited warranty, backed by U.S. customer service available 24/7.
Email when stock available
Description
The smarter way to beat the heat and control your cool. That's the ROLLICOOL 100H-20v2 from Rollibot—a compact, portable A/C unit with powerful 14,000 BTU cooling; user-friendly ROLLICOOL app; intuitive timer/scheduling feature; and wireless options, including Alexa-ready voice commands. With support for both 2.4GHz and 5GHz wi-fi networks, this unit works with wi-fi hubs, extenders and other routers that combine the two network bands into one (aka band steering). The COOL 100H-20v2 3-in-1 comfort solution has the capacity to cool up to 375 sq. ft. The unit can pull up to 70 liters of water from the air—that's roughly 2.92 liters per hour. Dry air is cooler air. (Important: You must use the upper drainage opening and hose when in Dehumidify Mode.) And these comfort modes can be accessed and controlled from the beautiful top-mounted digital display, the user-friendly app, or with voice commands using your Alexa device.
IMPORTANT: You must download the Rollicool app and register for an account to use Alexa skills. Alexa won't be able to identify the default name, so be sure to change the name of your COOL 100H-20 before pairing with Alexa; however, do not use "AC", "A/C", "A-C", or similar iterations, as this will interfere with some Alexa features.
Want to enable voice control using your Alexa device? Follow these steps:
Connect the app and the COOL 100H-20v2 to your Wi-Fi network.
Pair them both with your Alexa device (sold separately).
Tell Alexa (and your Rollicool) how cool you want your room.
Control more than your cool and comfort—control your energy costs too. With its streamlined design, light weight and easy-glide, 360-degree caster wheels, you can easily move your COOL to just the room that you need cooled. The COOL also features eco-friendly R-410A refrigerant, a green coolant that doesn't contain bromine, chlorine or other refrigerants that contribute to ozone depletion. The A/C unit assembles in minutes and set-up is a breeze. Contains everything you need for a seamless DIY installation, including window kit and reusable air filter that can be washed in most standard dishwashers.
Great value without sacrificing quality or features. Discover new ways to beat the heat with the ROLLICOOL 100H-20v2 portable Wi-Fi AC unit from Rollibot—the coolest friend you know.
Video instruction on how to install Rollicool 100H-20v2: