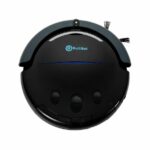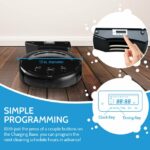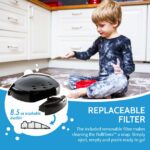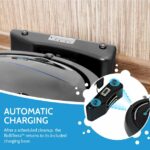 RolliTerra 100 Robotic Vacuum Robot – Recertified
$100.00
DEEP CLEAN – Specialized roller brushes penetrate deep into carpets and floors to remove more dirt than traditional vacuums.

REMOTE CONTROL – Enjoy effortless cleaning from your couch as you use the remote to control the cleaning robot.
ELIMINATE PET HAIR & DUST – The single filtration system traps dust, pollen & pet hair to create a cleaner environment.
Description
The RolliTerra uses infrared sensors to detect and avoid furniture and falls, leaving your walls spotless as it cleans. The RolliTerra uses a specialized roller brush system to penetrate deep into your carpets and floors and remove more dirt than traditional vacuum! With this best-in-class roller brush and its rubber brush companion, your home will be cleaner than ever.
Choose between using the remote from the couch, or pushing the button on the device, and watch the RolliTerra go to work on multiple surfaces ranging from wood and tile all the way to carpet! Scheduling mode allows you to schedule your robot vacuum to clean when you're not home!
Find the perfect clean-up method for any mess with RolliTerra's four cleaning modes: Spot Clean, Quick Clean, Max Clean, and Scheduled Clean.
A built-in air filter traps dust and pet hair while it cleans, purifying the air and making it the perfect cleaning companion for anyone who has children or pets.
If that's not enough, the RolliTerra cleans at a fraction of the volume of traditional vacuums and comes equipped with a washable dustbin and brush for convenient maintenance. Just dump, rinse, and get on with your day!
The RolliTerra has a longer battery life and covers more floor space than other robot vacuum cleaners. One charge lasts for up to 80-minutes of continuous, hassle-free cleaning. And if you ever need to pack it up, simply lift it with the convenient carrying handle.
RolliTerra. For a cleaning experience like nothing on earth!