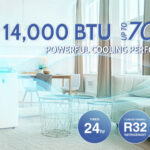 ROLLICOOL 14,000 BTU Portable Air Conditioner – Alexa-Ready App, Dehumidifier & Fan, Dual-Band Wi-Fi
$359.99
ZERO SALES TAX TO NON-INDIANA RESIDENTS! FREE SHIPPING!
ENJOY AN EXTRA $10 OFF WHEN YOU ENTER THIS SIZZLING COUPON CODE "TENCOOL" AT CHECKOUT!!
SMART COOL— Cool and dehumidify from anywhere with the smartphone app. Leaving the office during a heatwave?  A simple swipe ensures it's nice and cool when you get home.  Schedule the temperature to keep your pets safe & comfy while you're away.
"HEY ALEXA, SET THE TEMP TO…" – You could use the remote control if you don't have your phone handy. OR you can use voice commands!  Just ask Alexa and cool up to 750 square feet – the size of a studio apartment—with a massive 14,000 BTU capacity.
HASSLE-FREE INSTALL – Just clip the exhaust hose to the window kit and you're done! No heavy lifting or brackets like a traditional window AC.  360 ° wheels make it a snap to move, & its space-saving design is ideal for apartments, dorms, or RVs.
ENERGY SUPER SAVER – Tell your energy bills to "chill out" and save up to 5x this summer. Don't crank your central AC: spot cool the rooms you need. Smart Sleep mode adjusts the temp and fan so you can rest comfortably without wasting power.
BEST-IN-CLASS SUPPORT – Rollibot standing air conditioners are protected by a One-Year Warranty, fully backed by an American company. Have questions? Simply contact our expert team of customer support specialists via email, phone or live chat.
Description
Comfort is yours to command! The RolliCool 414 is designed for the way you live. It features powerful but quiet performance, and even includes full Alexa support. You'll love the freedom to cool any 750-square-foot space with a press of a button or the sound of your voice.
Download the Rollicool app to set up cooling schedules, dehumidify, adjust fan speeds, and much more. It's compatible with almost all iOS and Android smartphones and tablets. Going to the office or on vacation but leaving your pets behind? Use the app to keep them cool during "the dog days of summer."
"Hey, Alexa — set Rollicool to 66." Connect with Alexa-compatible devices like the Echo Dot and control the AC from anywhere. On your couch, in the yard, even while you're away. Remotely set temperatures. Change comfort mode from cooling to dehumidifying. Schedule timers. All with simple voice commands. Never worry about coming home to a sauna. Simply tell Alexa your ideal room temperature and enjoy perfect comfort.
The floor-standing air conditioner is fantastic for any space. Cool off your small studio apartment, larger family room, RV or camper, and more. Are you renting and can't wall-mount a mini-split? Does your HOA not allow exterior window units? No problem! A user-friendly LED control panel is another way to control the A/C with a simple, intuitive navigation system. A long-range remote control is also included in case your phone isn't around.
Great value without sacrificing quality or features. Discover new ways to beat the heat with the Rollicool COOL 414 portable AC unit from Rollibot – the coolest friend you know!