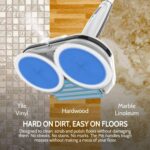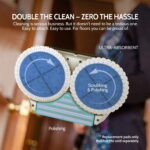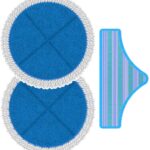 ROLLIBOT Replacement Spin Mop Heads for M6 2-in-1 Electric Mop
$15.00
MADE BY ROLLIBOT FOR ROLLIBOT — Accept no substitutes. These cleaning head replacements are fitted perfectly for the M6 spin mop. Say "no" to generic, off-brand replacements.
STREAK-FREE MICROFIBER — Our replacement spin mop pads are crafted with thousands of high-quality microfiber strands that attracts and traps dirt, dust and grime.
ABSORBENT COTTON EDGES — More absorbent than other laminate floor mop heads and requires less water than other cleaning pads. So your floor is cleaner with less streaks.
MACHINE WASHABLE — Clean, wash, air-dry. Replacement heads won't lose shape in the washing machine. So they last for months of regular, daily cleaning.
YOUR FRIEND IN CLEAN — The M6 spin mop replacement pad works great as a dry mop and adds super- absorbent qualities to your cleaning, thanks to the combination of cotton and microfiber. The best of both worlds in one pad.
Description
Keeping a clean floor is serious business. But it doesn't have to be a tedious one. That's why we developed the Rollibot M6 2-in-1 Electric Mop. It's a powerful clean that's twice as effective as a standard mop, but with half the hassle. This refill pack comes with two cotton-edged mopping attachments.
This refill combo pack of electric floor mop replacement pads uses microfiber mopping pads with soft-clean, super-absorbent cotton edges that's reusable and washable. When you're done with cleaning, simply toss the washable mop pads in the washing machine. In no time, they'll be ready to go to work when you need them.
The replacement mop pads are made specifically for Rollibot M6 2-in-1 Electric Spin Mop, designed to fit perfectly and function as intended. Accept no substitutes. Grab a replacement mop head refill for your Rollibot M6 and keep the clean coming.