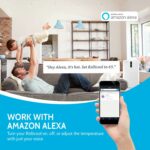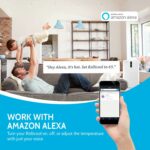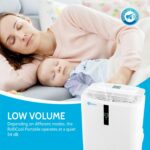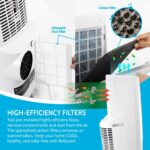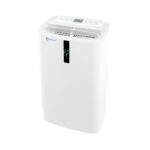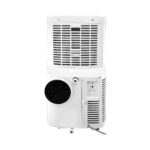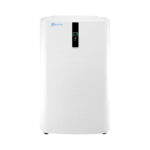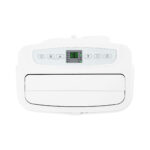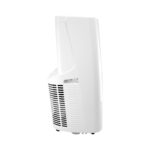 RolliCool COOL310-19 — 12,000 BTU Cooling and Heating Capacity
$495.00
WORKS WITH ALEXA –

Control your comfort with easy-breezy voice commands with the Alexa-enabled RolliCool COOL310 Air Conditioner and Heater.

QUIETLY ROBUST
YEAR-ROUND COMFORT
[NOCOUPON]
Email when stock available
Description
A New Kind of Cool
Featuring wireless connectivity options and 12,000 BTU of heating and cooling power, the RolliCool COOL310 portable air conditioner makes controlling your home climate a breeze.
The COOL310 is a standing air conditioner that can cool, heat, dehumidify, and fan almost any space in your house within minutes. Beat the heat after long summer days, warm your toes on chilly nights, or dehumidify sticky spaces to lounge for hours. For better air circulation, you can select the AC unit's Fan Mode to switch through different fan speeds and relax in a cool wind.
Setting up your AC only takes minutes with included parts and a moveable window kit. Whether you feel like hanging out in your living room or working in your study, you can roll your portable AC unit everywhere you go.
Stay smart and cool with RolliCool.
Get Connected Your Way
Control your COOL310 air conditioner from the comforts of your couch or bed with the included remote. To complete your smart home setup, pair your portable AC with Amazon Alexa to control your unit with quick and easy voice commands. Ask Alexa to power on your air cooler or adjust the temperature without pausing your movie. Downloading the RolliCool app on your iOS/Android allows you to control your comfort anywhere in the world and straight from your smartphone.
Specifications:
Functions: Cooling, Heating, Dehumidifying, Fan, and Sleep | Volume: ~54 dB | Temperature: 61-88°F (16-31°C) I C/F/ Switching| Dehumidifier: 6.9 Gallons/day | App Setup: Wi-Fi, Bluetooth | App: Android or iOS | App Functionality: Cooling, Heating, Switch Between Modes, Adjust Fan Direction, Change Speeds | Skills for Alexa: Turning RolliCool On/Off, Adjusting Temperature | Castors: 4 x 360° Castors | Filters: 2x High Efficiency Filters, 1x Carbon Filter | Sleep Mode: Dims Panel Lights and Circulates Air | Refrigerant: R410A | Accessories: Remote Control, Drainage Hose, Screw Fastener, Window Panels, Misc.
Washable Dust Filters

The COOL310 air conditioning unit comes with three preinstalled filters that help remove contaminants and odor from your home. Easily remove and wash* the wire filters under a faucet or soak them in lukewarm water before drying and popping them back in.

*The included carbon filter (black) is not washable

Easy Breezy Setup

Install your portable air conditioning unit in three easy steps. Connect the exhaust pipe, set up the included window kit, and connect the two.

Dehumidify Your Space

Select Dehumidify Mode to remove up to 26 liters of moisture from the air per day to turn your clammy space into a tropical lounge.