Train. Track. Transform! Rollibot Unveils the Rollifit Smart Body Composition Monitor
zhaojun@zakeusa.com
At Rollibot, we're committed to bringing you products for everyday life, products that are helpful and healthful, beautifully constructed and intelligently designed. From our robotic vacuums to Alexa-enabled portable AC units, we've brought to market a stable of products designed to make your life more fun and more convenient. In other words: better.
To that end, we're proud to unveil the Rollifit — a Bluetooth-enabled smart body composition analyzer and Bluetooth weight scale that use bioelectrical impedance analysis to provide insight on your fitness journey.
Powerfully Precise — Intelligently Designed
We've outfitted with Rollifit with ITO-conductive electrodes embedded in transparent, premium-grade conductive tempered
glass. This offers higher sensitivity — and better data — on a metal-free surface. These electrodes pass a weak electrical current through your feet (you won't feel the electricity — we promise!) and four ultra-precise biometric sensors for quick and accurate measurements.
All told, this design let us build one of the most accurate bathroom scales that provide a smart analysis of not just your weight, but also your BMI, BMR, muscle mass, bone mass and more.
Easy-to-Use Rollifit App
Download the app. Register for an account. Connect via Bluetooth. Step on the scale and track. It's as simple as that. Within seconds of stepping on your Rollifit, you'll see a well-rounded, holistic view of your health data and accurate measures of not only weight, but also your overall body composition — visceral fat, water percentage, and bone and muscle mass. The app also delivers helpful tips to improve each measurement as you go along.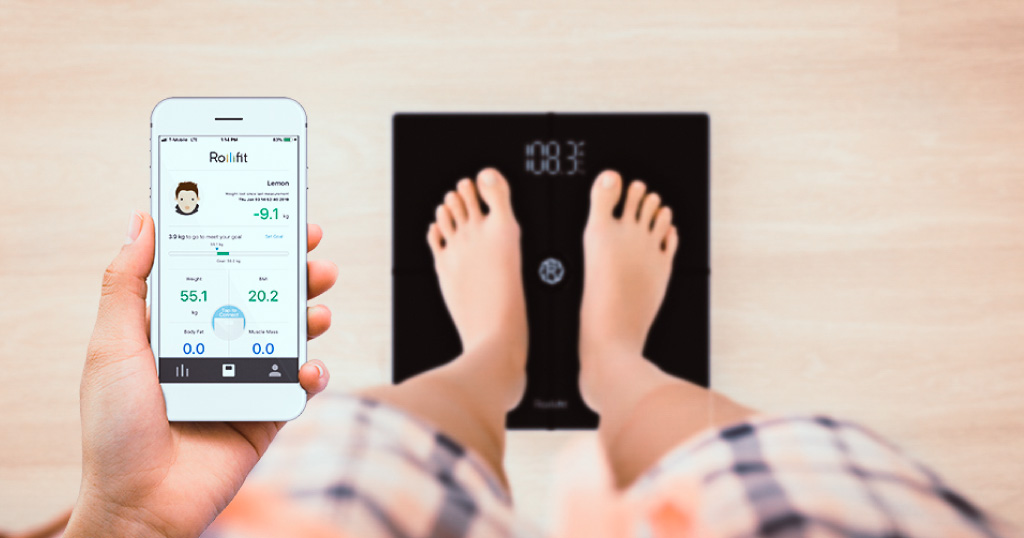 With key data and accurate measurements, you'll be able to monitor your health and track your fitness progress. Available for most modern iOS and Android devices.
Compatible with Your Favorite Fitness App
Whether you're just starting out or well into your fitness journey, you likely already have your favorite health and fitness app. So we had to make sure we designed an extremely versatile and flexible Bluetooth smart scale. More than just a Fitbit-compatible scale, the Rollifit plays well with everything from Fitbit to Google Fit to Apple Health, integrating and syncing data seamlessly across the platform of your choosing.

One Smart Scale to Rule Them All
Most digital body fat monitoring and weighing scales support only a single person, or a very small number of users. But we understand that, sometimes, getting fit and staying fit is a team effort. An unlimited number of users can use the Rollifit Bluetooth weight scale, so your entire family can sync health data, monitor trends and even receive fitness tips with the Rollifit. Everyone will have access to the full functionality of a single Rollifit.
A Digital Bathroom Scale You Can Show Off
We know that it's important that a product produces accurate results, that it does exactly what it's supposed to do. It should also great doing it! The clean, minimalist design, with its high-quality tempered glass, is something you'll want to show off.
You won't want to tuck it under your bed or hide it in your bathroom closet. You'll want to display it front and center, loud and proud, for all to see.
And you'll be more apt to use the Rollifit too, because it'll be in plain sight, not hidden away to be forgotten. And the more you use the Rollifit, the more you're likely to stay on-track of your fitness goals. Win-win! After all, the best bathroom scales for weight loss are the ones that are actually used.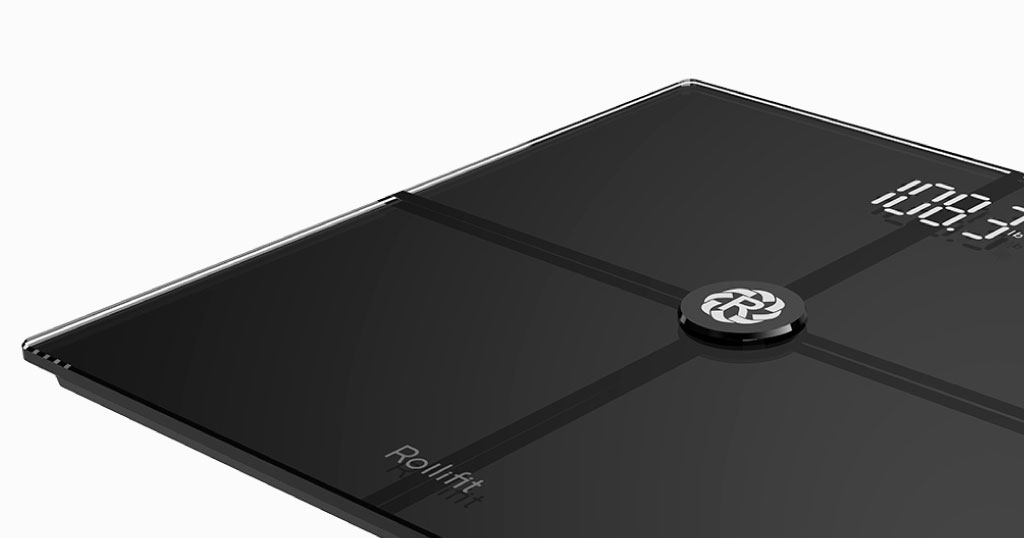 Health is about more than weight. That's why the Rollifit promises to do more than just weigh you. From bone mass to water percentage, you'll get more well-rounded insights into your health than with just your typical weight scale. It's an in-depth, all-in-one health monitoring solution to a healthier you, a Bluetooth smart scale that work with Fitbit, Google Fit, Apple Health and more.
Train. Track. Transform. These are more than just words — it's a way of life. And the Rollifit is more than just a bathroom weight scale — it's the friend you need on your journey to a more healthful you.
Let's scale up your success, together, with the new Rollifit.
Now Rollifit body fat scale is available on Amazon.com with $49.99, View More